thank you captain . and thank you to everyone else who participated in our first team tournament . i humbly accept this 1st place trophy on behalf of 'blackwing - vayu the emblem of honor' and 'dark grepher' because without you guys i couldnt of done it .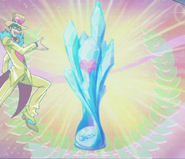 also, congratulations are in order for dinivas and kirbygonewrong, the 2nd and 3rd place finishers, respectively . you guys were my toughest matches and i respected the power of your decks and the ways in which you used them . (shout-outs to JD and photon thrasher)
finally, i had decided since the tournaments beginning that the winner's deck would be featured as the abyssal phoenixes' april 2012 deck of the month . i didnt honestly expect to win this tourney, but now that i have you can all see the deck i did it with . thank you guys and look for the april 2012 dotm, vayu turbo .
again thank you to everyone and WHOOO I WONNN !!!!!!!!!! YEEEEEEEAAAAHHHHHHHHH !!!!!!!!!!!
hahaha XD